Charming Teacup Pomeranian Puppies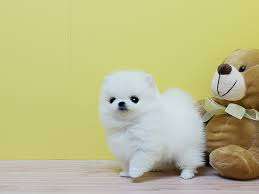 Overview
Category :

Puppies & Dogs

Condition :

New

ad's with :

with images
Description
Cute Tiny Teacup Pomeranian Puppies .These EXTREMELY tiny Pomeranian Puppies are a gift from God! They are very healthy, very playful. They have the most amazing ice white coat! Have exceptionally loving personality and will take your breath away. They are all vet checked , vaccinated , have a very good temperament and dewormed , health certified.
Features:
white Pomeranian puppies for sale
Business Hours
We are currently open.
Open
Close
Monday
Open (24 Hours)
Tuesday
Open (24 Hours)
Wednesday
Open (24 Hours)
Thursday
Open (24 Hours)
Friday
Open (24 Hours)
Saturday
Open Today (24 Hours)
Sunday
Open (24 Hours)