DreamsPOS – POS & Inventory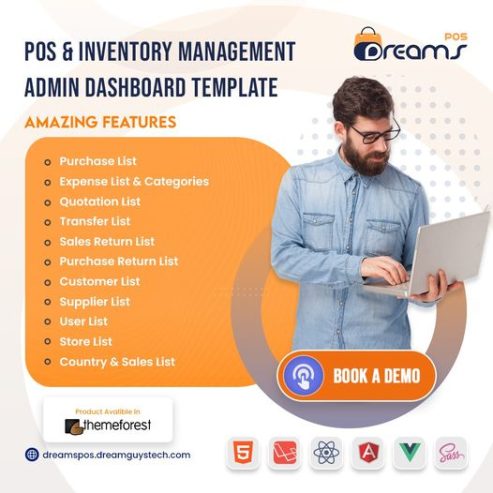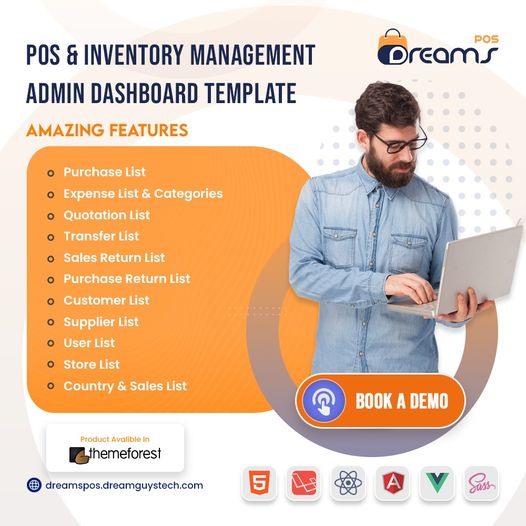 Overview
Category :

Business Services

Condition :

New

ad's with :

with images
Description
DreamsPOS is a Point of Sale (POS) and inventory management admin dashboard template that is available in different technologies such as HTML, Angular, Reactjs, Vuejs, and Laravel. A POS system is a computerized system that enables businesses to process transactions and manage inventory. DreamsPOS provides a user-friendly interface that enables business owners to track their inventory levels, manage their sales, and generate reports.
The dashboard template offers several features such as a product management module, customer management module, employee management module, order management module, and payment management module. These features enable businesses to manage their operations more efficiently and effectively.
The HTML version of DreamsPOS is a responsive template that can be used with any website design. Angular, Reactjs, and Vuejs versions of DreamsPOS are single-page applications that provide faster loading times and better performance. The Laravel version of DreamsPOS is a PHP-based framework that offers a more robust and scalable platform.
Overall, DreamsPOS is a versatile admin dashboard template that can be used by businesses of all sizes to manage their POS and inventory management needs.
Features:
Admin Dashboard
Purchase & Sales overview
Recently Added Products List
Product List
Category & Sub Categories List
Brand List
Import Products
Print Barcode
sales List
pos
Purchase List
Expense List & Categories
Quotation List
Transfer List
Sales Return List
Purchase Return List
Customer List
Supplier List
User List
Store List
Country & Sales List
Tax Rates
Reports
User List
General Settings
Email Settings
Payment Settings
Currency Settings